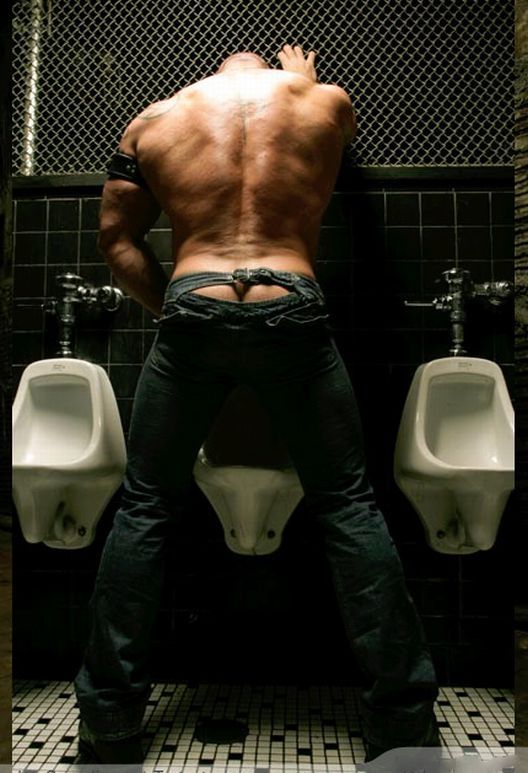 Restroom Hijinks Part 2
A powerful stream of piss hit hard against the urinal and a manly musk quickly wafted through the room. The torrent continued for several minutes as the musclebound man emptied out his king-size bladder.
When done, Bryan's cock was still hard as a rock. He desperately needed to relieve himself, even in public.
With a strong callused hand, he stroked his magnificent tool.
He grunted with sweet pleasure, building up speed as he relived the last five minutes of his life…
…The shouts of alarm from Tyler as Bryan the Dweeb could feel his neck muscles outgrow the bully's weakening grasp…
…His vision clearing after emerging from the water to see two huge bulging arms crack the porcelain bowl with their steel-like grasp…
…The feel of his new massive cock growing erect as he realized that those terrifying arms were part of his now-hulking body…
…Tyler's screaming head smashing against the porcelain bowl as Bryan's mighty fist smashed into his pretty-boy face…
…The sounds of snapping bones as Bryan kicked Zach's much-inferior body into a bloody heap…
…The sound of Harry whimpering and blubbering as he pleaded with Bryan to stop…
…The sound of ripped denim as Bryan squeezed his rock-hard butt into the too-tight jeans he had grabbed from the locker room. Smirking when he realised the jeans belonged to the school's most muscular football player. Fucking weakling…
…The groans of his victims, still lying in puddles of their own piss and blood, while Bryan masturbated to his hot alpha male body…
FUCK!
His cock spasmed hard as hot thick ropes of cum spewed out. The urinal was quickly covered in a sticky mess.
Bryan the God zipped up his crotch, soaped up his blood-stained hands and strutted out the door to his new perfect life.