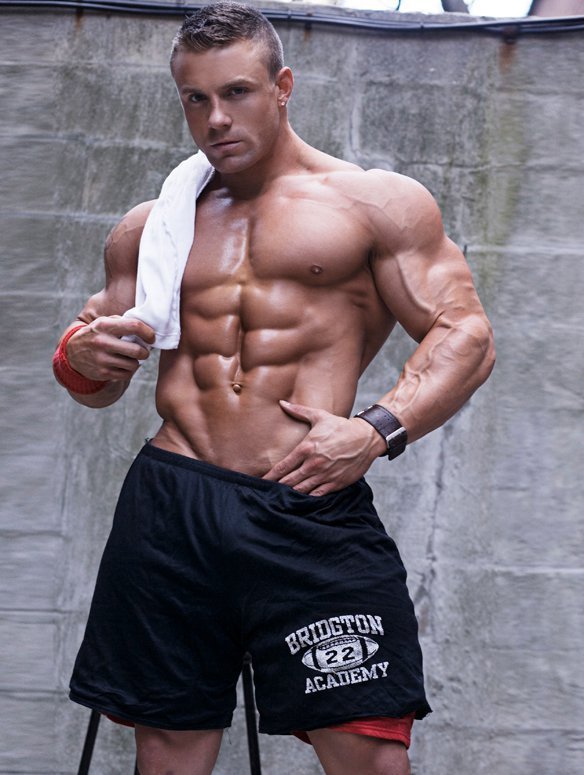 Some Friendly Advice 1
Cameron gritted his teeth, urging his right bicep to slowly raise the dumbbell. His twig-like arm was shaking uncontrollable and his lungs were crying for oxygen. Just as his bicep was about to contract, his puny grip gave up, dropping the dumbbell with a loud crash that thundered around the gym.
He averted his gaze down to the gym's floor mats, avoiding any eye-contact. He had just humiliated himself in front of everyone. However he couldn't avoid hearing the jeers from the nearby jocks. Red-faced  he slinked off to the locker room toweling the sweat off his pitiful body.
It sounded like a good idea when Brandon suggested that the both of them start working out several months back. An opportunity for both friends to team together and fight against their geeky genetics. However Cameron was unable to add a pound his body, remaining a pathetic shrimp of boy. Meanwhile the regular weight training simply did wonders to Brandon's body, causing his body to surge with testosterone and growth hormones. The little nerd had quickly transformed into a teenage hunk and now devoted all his free time searching for and fucking pussy. Cameron was unable to keep up as Brandon's workout spotter and eventually Brandon also outgrew Cameron's friendship, embracing his new life of jockhood.
Cameron didn't even know why he still goes to the gym. Maybe this last humiliation would be the tipping point and he could abandon the whole enterprise.
Without warning, a pair of strong hands lifted Cameron up in the air from behind and quickly carried him through an emergency exit and into an empty yard.
Cameron was dumped unceremoniously to the ground. The mystery man slowly walked to a nearby block wall, finally revealing the kidnapper to be no other than smirking Brock.
Brock was the alpha male of the gym. His body was perfection, a sculpted physique that fitness models could be jealous of. However, his bodybuilder physique did not mean he was a pussy of a lifter - he strength rivaled that of a power lifter and no one could touch his lifts in the gym. He ruled the gym with an iron fist, belittling the lesser-muscled jocks and fucking the hottest girls. Right now in the empty yard, his tanned upper body was deliberately bare - arrogantly showing off the sexy hard body of the super stud.
Cameron felt even more inferior than ever. He wished the ground would just swallow him whole.
"Look kid," said Brock in a surprisingly gently voice. "I've been watching you the last few weeks. It's time for some friendly advice."
"I used to be exactly like you 18 months ago, a skinny little twerp that was embarrassed about my puny body. Always worrying about how all my friends seem to easily gain muscle while I could barely lift an empty barbell. I was getting constantly teased by my buddies."
"Well those fuckers didn't know that my cousin happened to be the biggest steroid dealer in the coast. After three months of ridicule at the gym, I finally had the balls to visit my cuz for help. And help he fucking did."
"Look at me now - I'm a fucking muscle stud!"
Brock slowly rubbed his manly hand down his muscled torso, reveling in the feel of each rock-hard bulge of sinew. His hand slowed passed his perfect abs until he cheekily lowered his workout shorts, revealing his unbelievable thick adonis belt.
Cameron's dick grew hard at stud's blatantly erotic self-worship.
"The ladies can't get enough of me! And my former 'friends' do nothing but gape my hot body. Only thing they are good for is the occasional blowjob."
"In fact here comes one now."
A young stud had entered the yard, sneaking through the locker room's emergency exit. Normally Cameron would be impressed by the physique of the new man but the athlete was a pathetic weakling compared to the muscle god that was Brock.
"Eddie, suck my little buddy's cock here and I'll give you a nice fat reward." ordered Brock, while he groped the large bulge in his sweat shorts.
The jock dropped to his knees, untied Cameron's workout pants and engulfed the young boy's dick with his mouth. A flood of dominance overcame Cameron as he watched the handsome stud worship his cock and balls. Soon Cameron was getting into the mood, his boney hips bucking hard as he head-fucked Eddie.
Brock then started whispering into Cameron's ear.
"Imagine getting blown like this whenever you wanted? Don't you want to know what it feels like to be a true alpha male? I can get you all the drugs that you'll ever need. Why waste time killing yourself lifting baby weights when I can sculpt you into a superman?"
The sultry whispers drove Cameron over the edge. He roared as he bust his nut down Eddie's muscular throat. The muscle slave obediently swallowed every drop.
Cameron nodded at Brock.
It was time to embrace his new destiny.